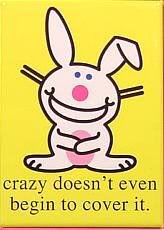 What ever your religion, whatever you God or deity or whatever, please pray to said deity for these people, because they really need it and I am sick and tired of hearing or reading about the poor lost souls.
13. Lindsay Lohan- I really hope rehab worked...this time.
12. O.J.- For real, dude, go somewhere, sit down and shut the f$%#! up.
11. Dana Perino- How are you gonna be the Press Secretary for the freakin' President of the United States and not know about the Cuban Missile Crisis? I mean seriously?
http://www.satiricalpolitical.com/?p=1278
10. Michael Jackson- What the hell, man...or, woman...or whatever?
9. Brittany Spears- Thought she would be close to the top of the list, huh? Nope! I can't waste that mush time on the child. Poor thing.
8. Kevin Federline- Because for real people, those kids are gonna need some kind of role model/parent. So let's all pray hard, because Brittany is, well, Brittany.
7. The United States Justice Department- I know, not a person, but...let us pray.
6. The United States Congress- Again, not a person but in desperate need of prayer...and a swift kick in the...
5. Amy Winehouse- Maybe it's time you say "Yes, yes, yes" to Rehab.
4. Alan Keyes- Why does this man keep running for crap? And who the hell keeps supporting him?
3. Tiffany "New York" Pollard- *sigh* If you don't know, maybe you need some prayer too.
2. George W. Bush- Go take a nap.
1. Sherri Shepherd of The View- Girl, shut up. Just stop talking because you make my head hurt.
http://www.huffingtonpost.com/2007/12/18/sherri-shepherd-i-couldn_n_77331.html
There are many, many more that should have been on this list, but I managed to cut it down to 13. For those who didn't make the list-I am still praying for you!